About Us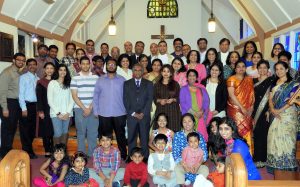 St. Paul's Episcopal Church held its first service on February 9, 1913.  Having begun with a handful of families in a former plumber's shop at 55 Hackensack Street, the congregation grew rapidly and moved to its present location at Center and Humboldt streets in May, 1920.  This congregation has remained a constant presence in the Wood-Ridge Community for over 90 years.  In addition to its modernized sanctuary, which boasts superb Tiffany stained glass windows, the church property also includes Cosby Hall, a multipurpose public space which for the past several years has been home for the Infant Sweet infant care center.
   Throughout its history, in times of war and peace, of prosperity and adversity, the church has remained actively involved in the changing concerns of the congregation and community. St. Paul's has taken an active role in issues such as racism, foreign refugees and the immigrant population, poverty, homelessness and childhood literacy.
   In 1991, the Church of St. Paul's combined with the Church of the Resurrection in East Rutherford, a congregation of many members from The Church of South India.  Under the leadership of the Rev. Jacob David, the Church of St. Paul's & Resurrection has become a model of America's increasing racial and cultural diversity.  We lovingly embrace humanity in all its variety, and cordially invite worshippers from every walk of life to experience our unique and enriching fellowship.